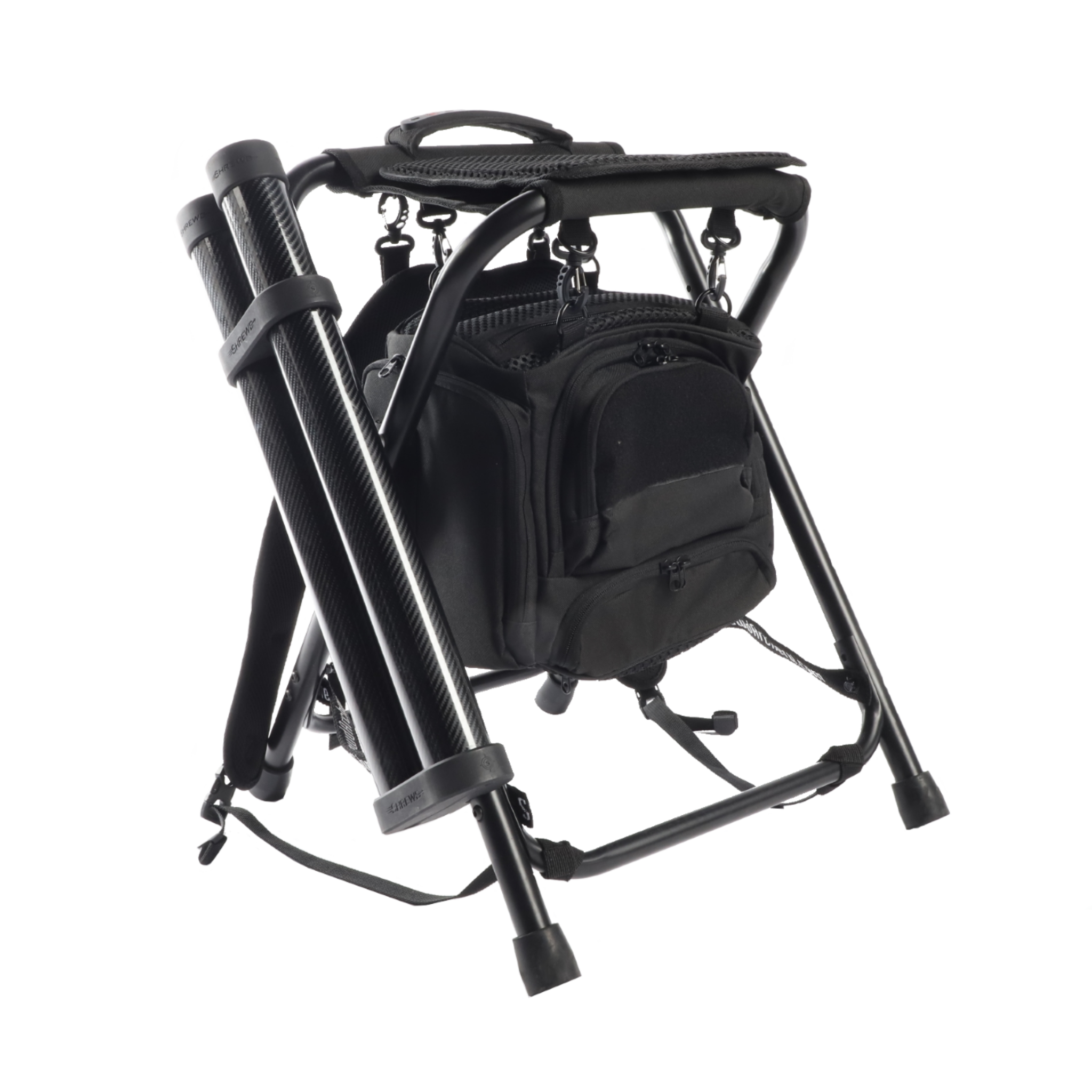 SIDEKICK STOOL
SKU: SMSSIDEKICKBK
---
DUE TO THE SIZE OF THE SIDEKICK CHAIR AN OVER-SIZED SHIPPING FEE WILL BE APPLIED TO EACH CHAIR ORDERED. THE SIDEKICK DOES NOT QUALIFY FOR FREE SHIPPING.
COMFORT-TEC SEAT OFFERS A COMFORTABLE PLACE TO SIT AND PREVENTS THE METAL FRAME FROM PRESSING INTO THE BACK OF THE USER'S LEGS.
LARGE ARROW TUBES ARE BOLTED TO THE SIDE OF THE CHAIR FOR EASY ARROW STORAGE AND CONVENIENCE. THESE FEATURE RUBBER PADS IN THE BOTTOM AND RUBBER RINGS AROUND THE TOP TO PREVENT ARROW DAMAGE AND REDUCE NOISE. 

THESE CAN BE INSTALLED ON EITHER SIDE OF THE SEAT.

THE SIDEKICK INCORPORATES A REMOVEABLE STORAGE BAG THAT OFFERS A VARIETY OF POCKETS AND POUCHES TO KEEP EVERYTHING ORGANIZED AND EASY TO FIND. THE BAG CONSISTS OF A BIG MAIN COMPARTMENT WITH A SMALLER ZIPPERED POCKET ON THE OPENING FLAP, TWO ELASTIC POUCHES ON ONE SIDE, A ZIPPERED POCKET WITH MESH DIVIDERS ON THE OTHER SIDE, MESH POCKETS ON THE TOP AND BOTTOM, AND A SHORT COMPARTMENT FOR A SMALL PLASTIC TOOLBOX (NOT INCLUDED). 
RUBBER FEET ARE GLUED ON THE BOTTOM OF EACH LEG TO CREATE A STABLE FOOTING AND PREVENT THE FEET FROM COMING OFF IN THE MUD.
RUGGED CONSTRUCTION AND HIGH-QUALITY MATERIALS GIVE THE SIDEKICK A 300LB WEIGHT CAPACITY. 
INCLUDES BACKPACK STRAPS, A SHOULDER STRAP, AND AN EASY GRAB HANDLE TO MAKE MOVING AROUND THE RANGE EASY AND CONVENIENT.
FEATURES MOLLE PANEL WEBBING ON THE BACK OF THE BAG TO ALLOW FOR THE ADDITION OF MOLLE COMPATIBLE ACCESSORIES.
A ONE-INCH DROP IN HEIGHT FROM THE FRONT (22" TALL) TO THE BACK (23" TALL) MAKES FOR A MORE NATURAL AND COMFORTABLE SITTING POSITION.
WEIGHS 7.5 LBS 
COMES FULLY ASSEMBLED.
AVAILABLE IN BLACK.
SIDEKICK STOOLS INCLUDE A 1 YEAR MANUFACTURER WARRANTY FROM THE DATE OF PURCHASE. 
AVAILABLE ACCESSORIES: