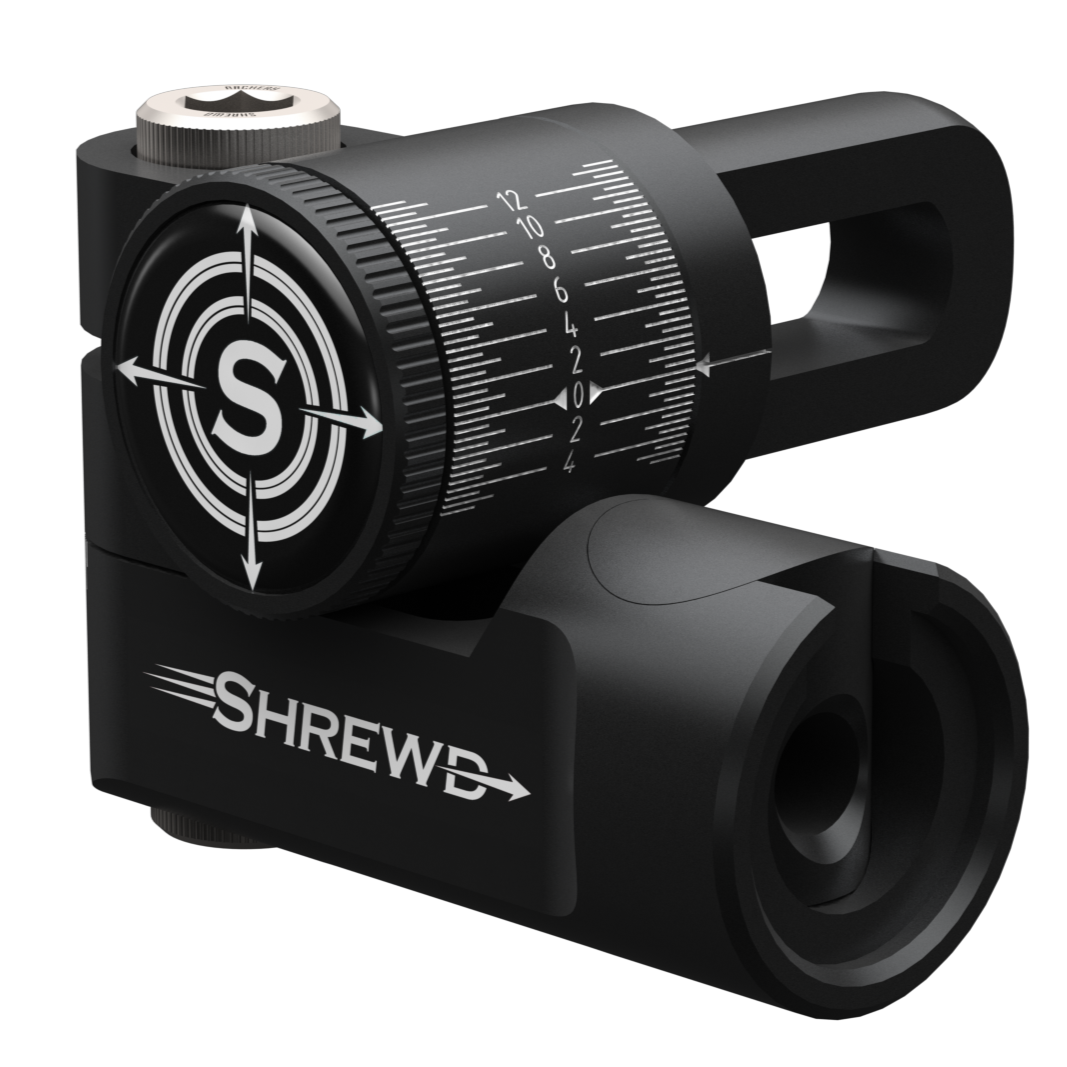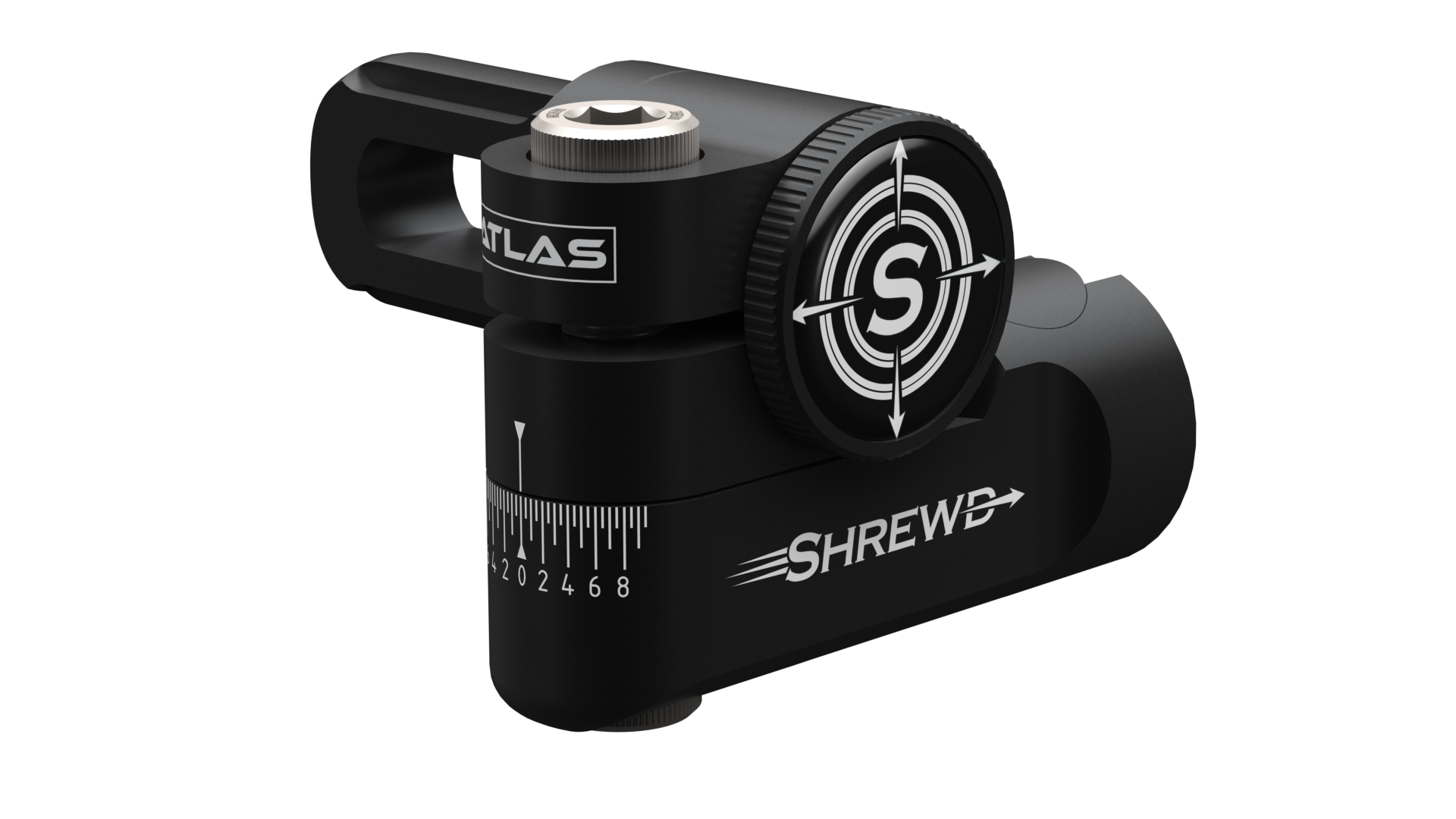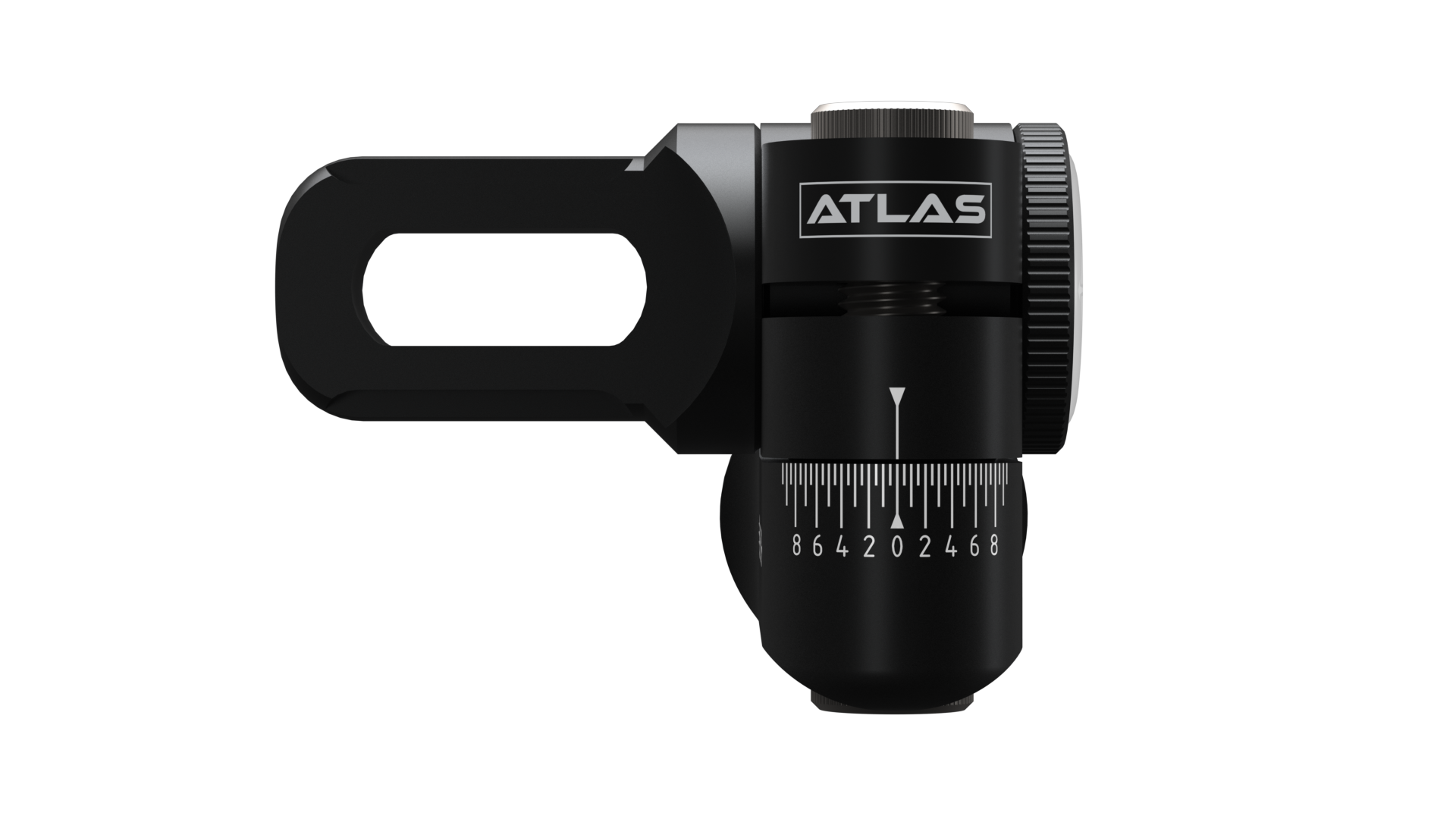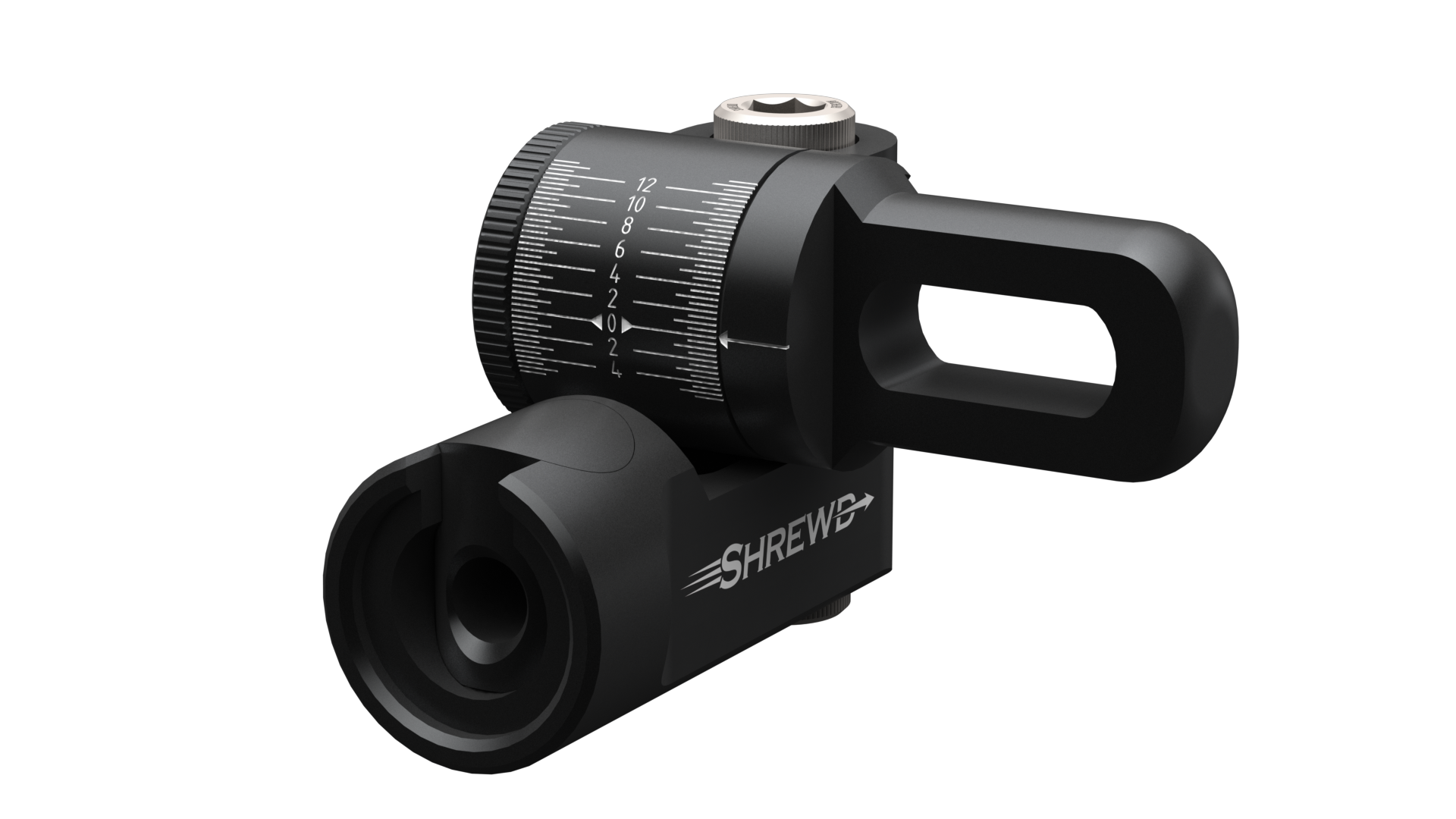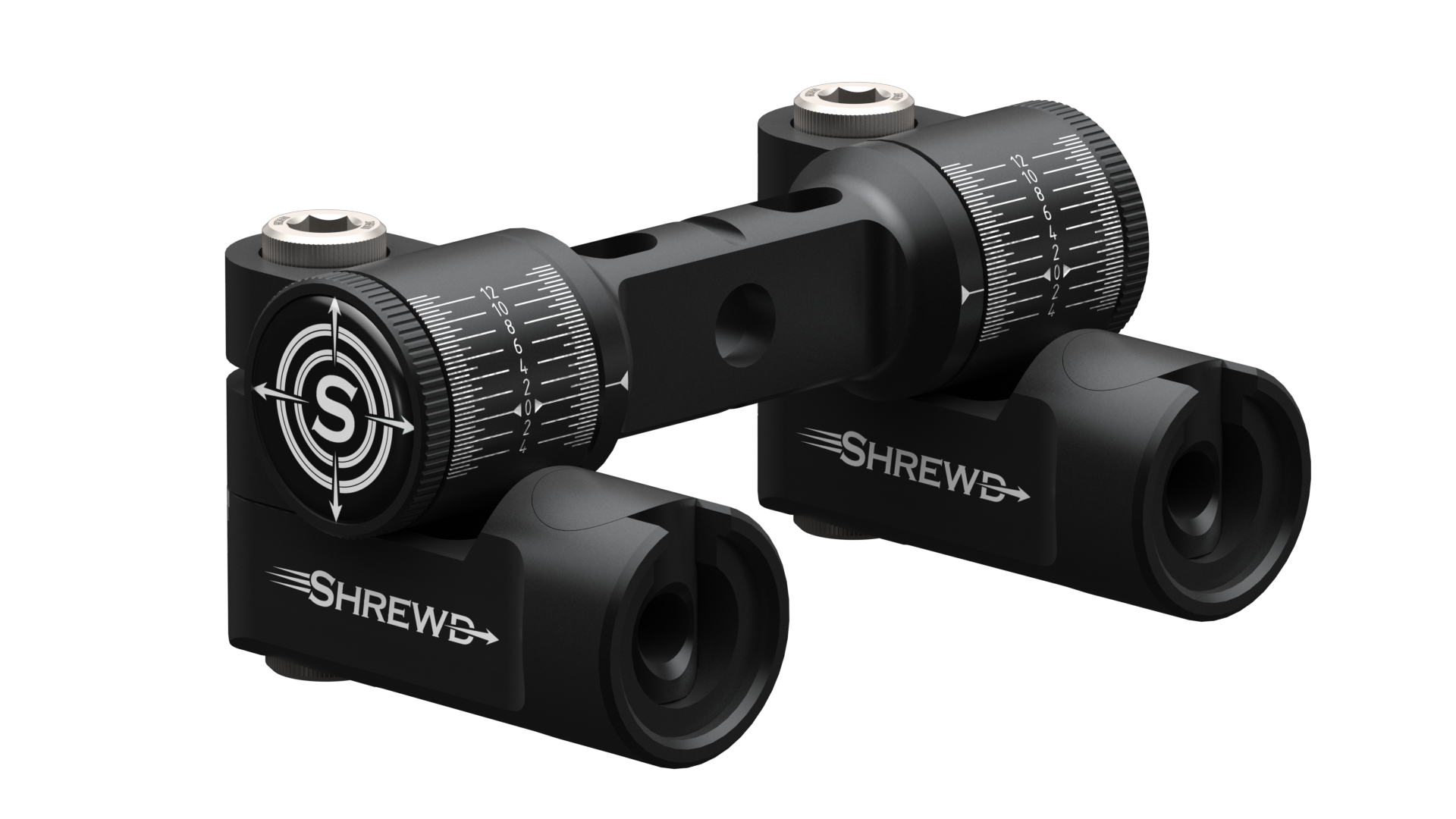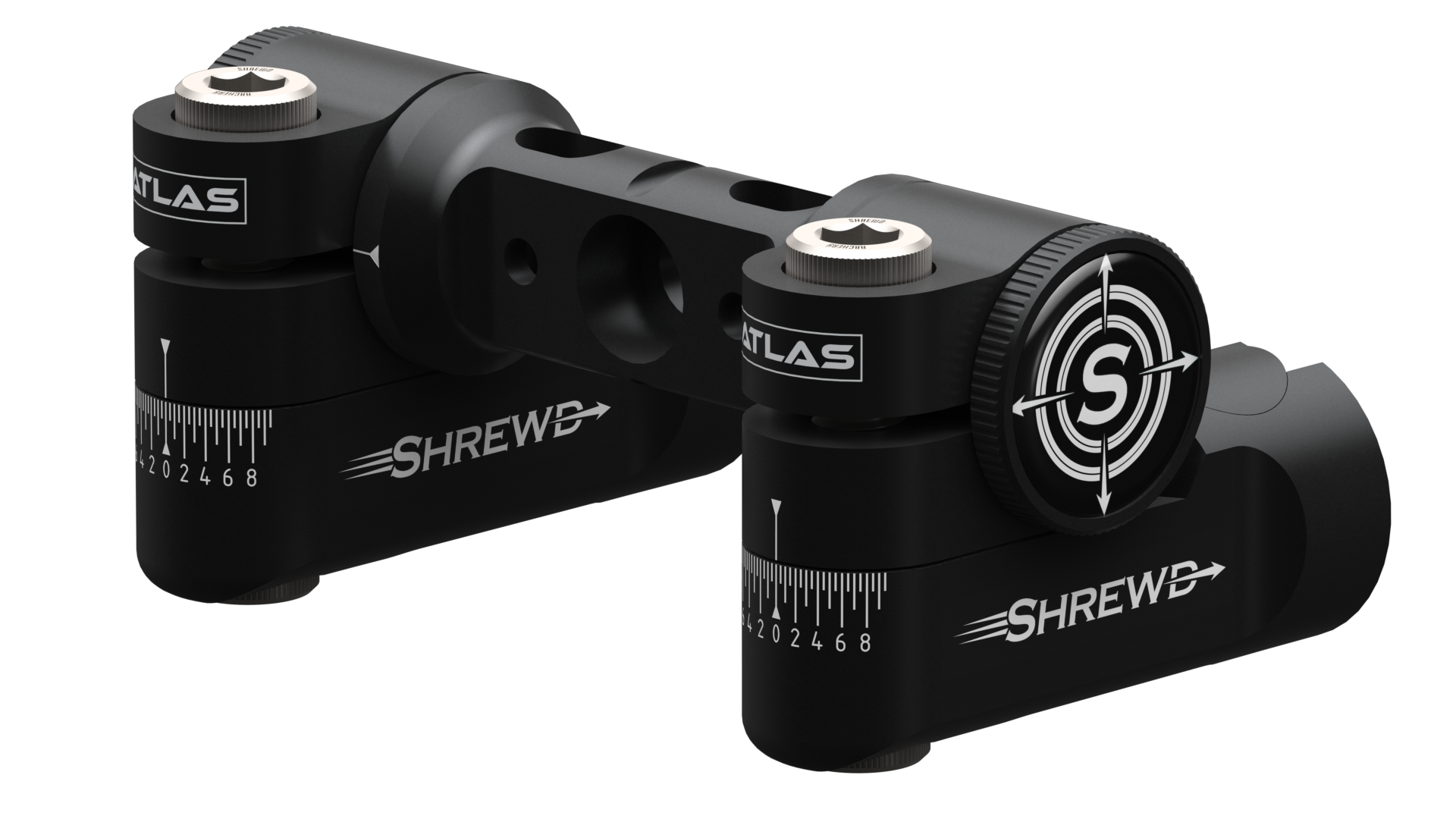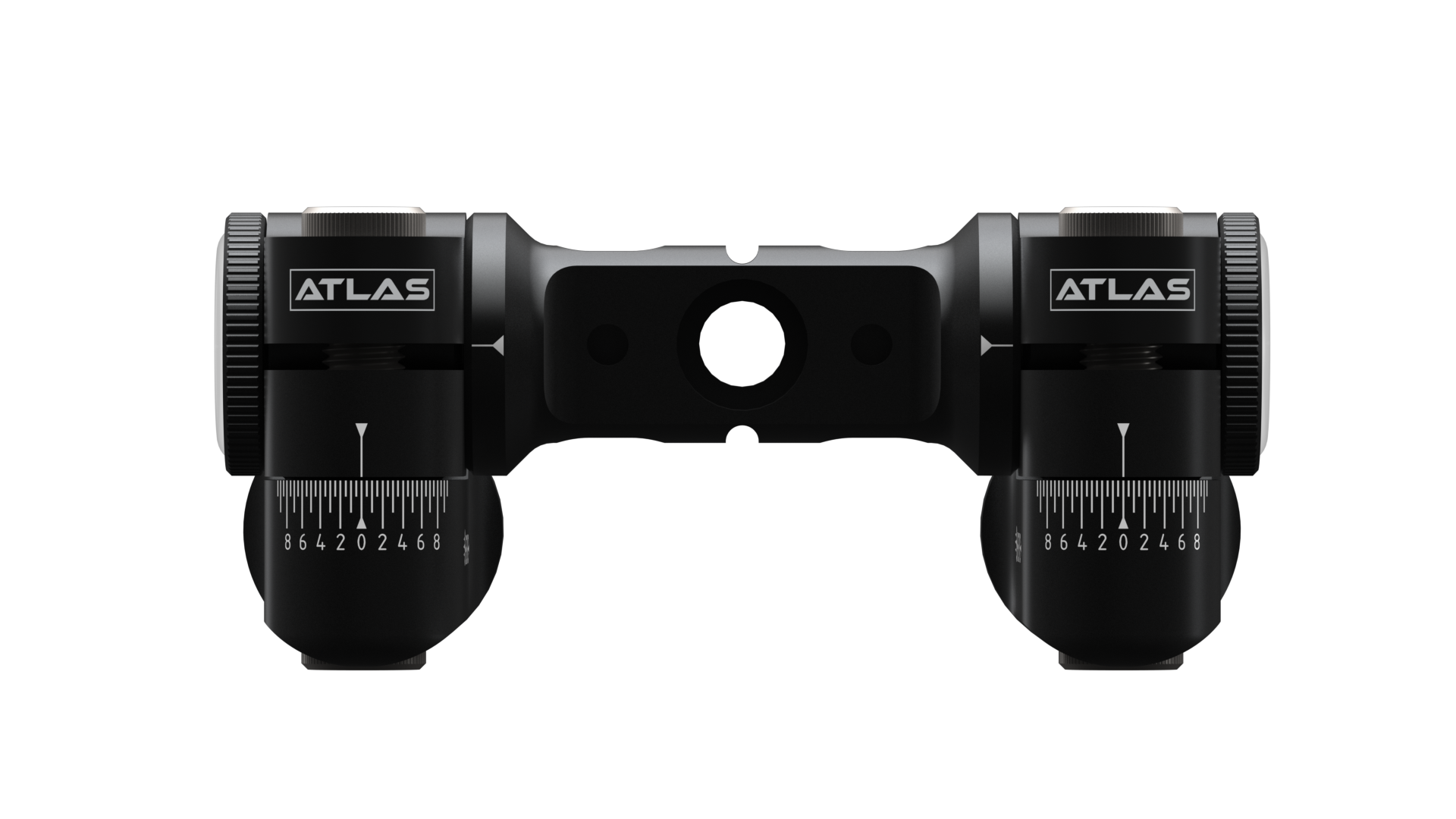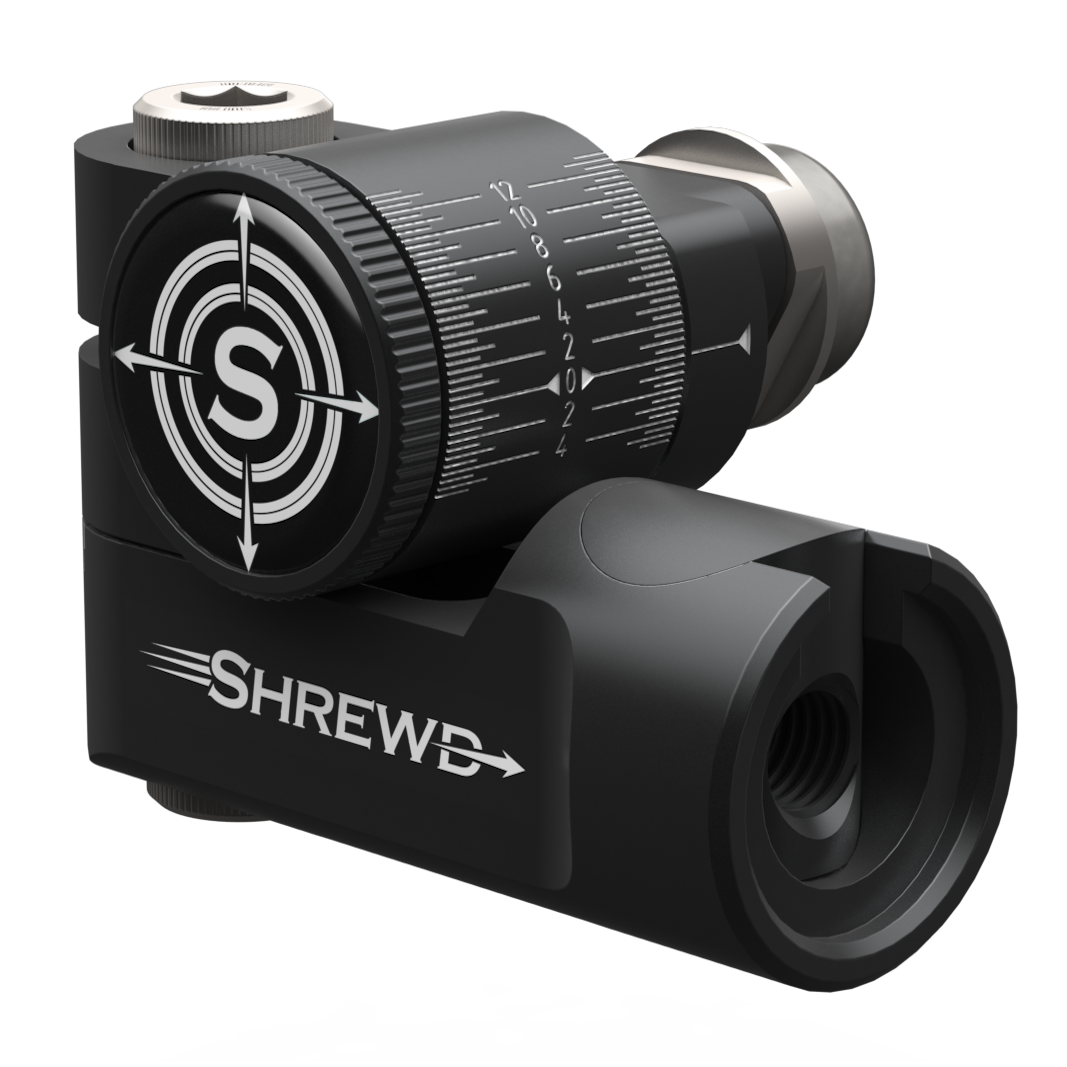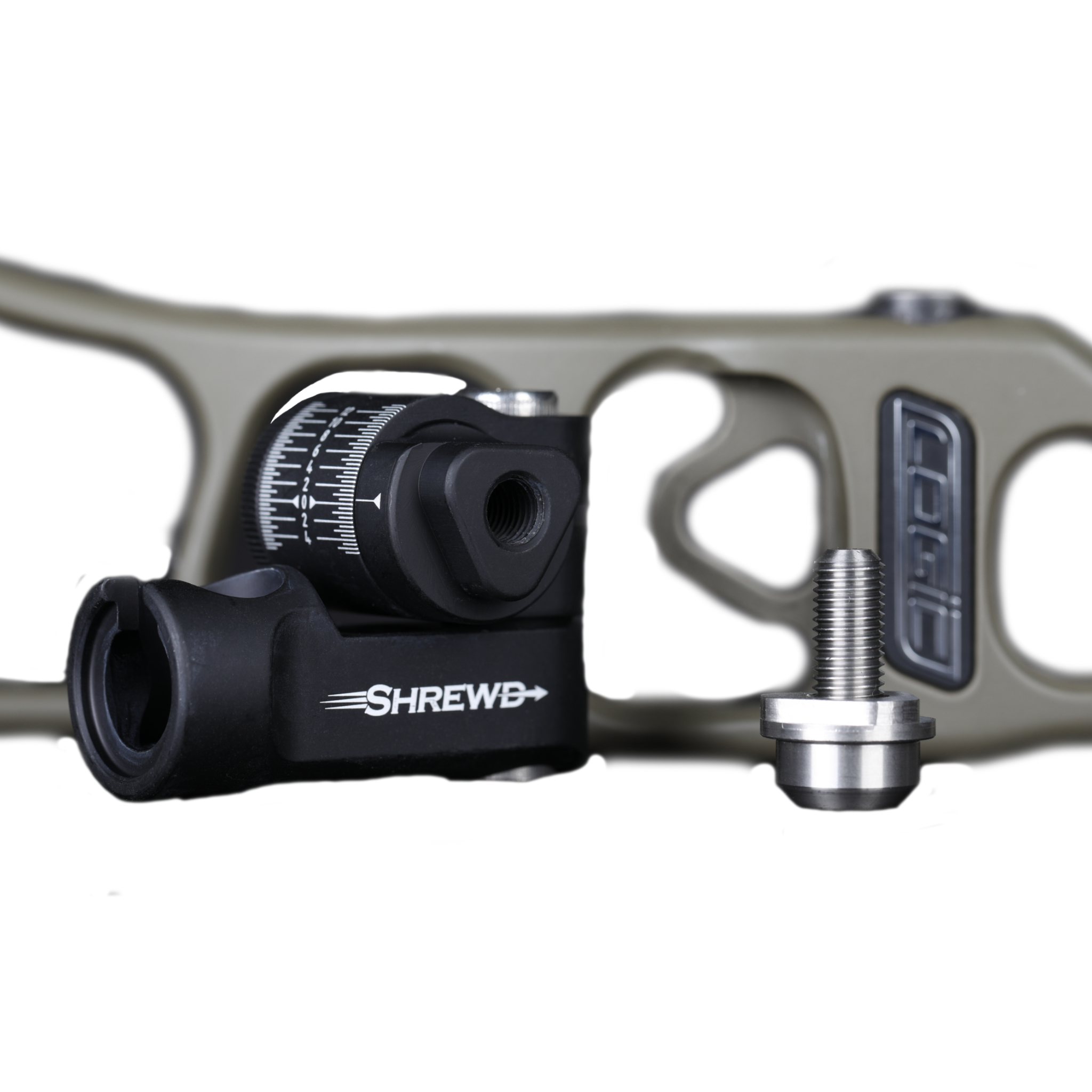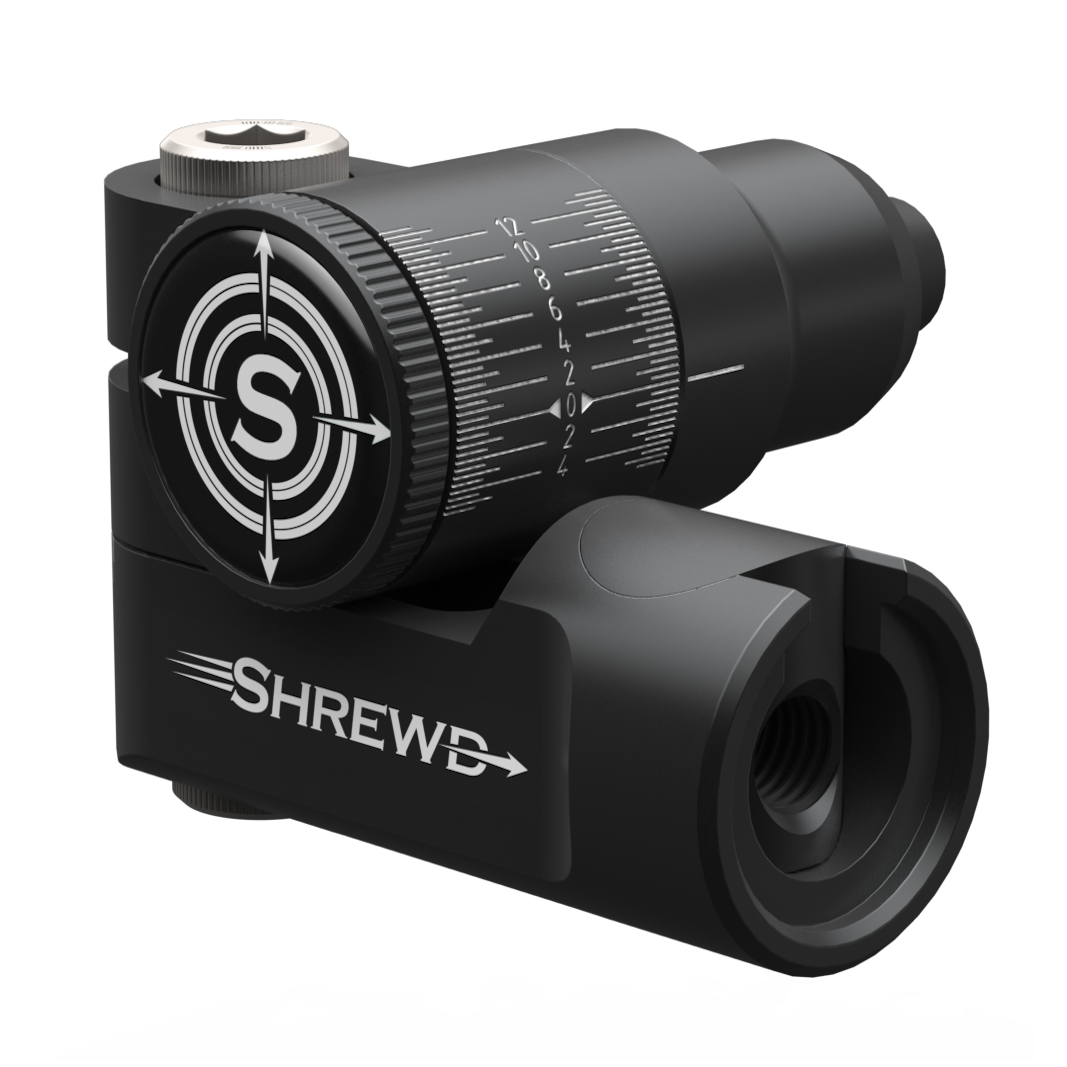 Atlas V-Bar
SKU: SMAVB1ATLASMBK
---
---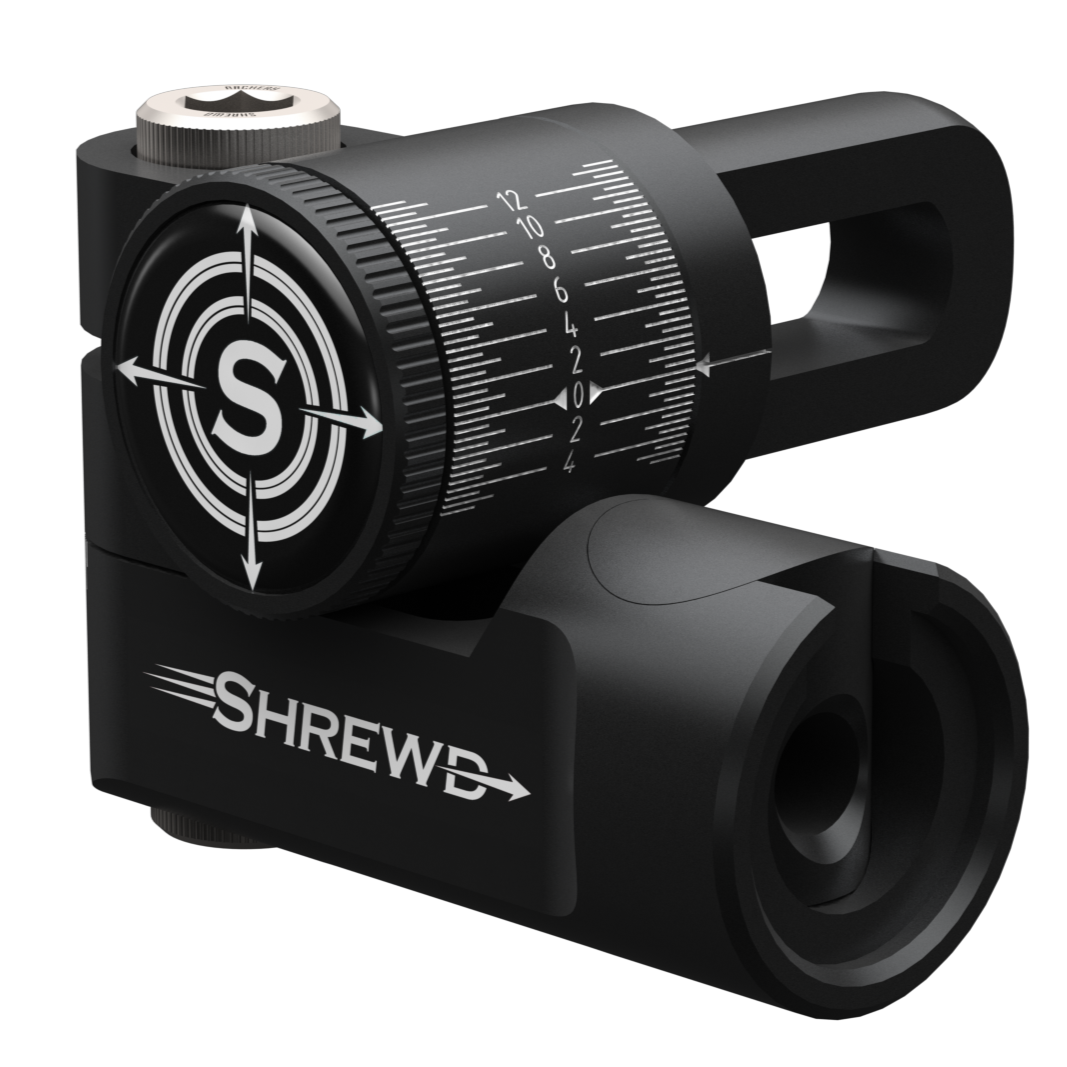 FEATURES:

HYBRID CLAMP-TAPER SYSTEM PRODUCES AN ULTRA-STRONG V-BAR
INTEGRATED QUICK DISCONNECT (1" DIAMETER) MAKES INSTALLING AND REMOVING A REAR STABILIZER EFFORTLESS.
FEATURES PRECISION, LASER ENGRAVED INDICATOR LINES FOR REPEATABILITY AND PEACE OF MIND.
CNC MACHINED ALUMINUM
FEATURES A DROP-STOPPER SHELF THAT RESTS AGAINST THE SIDE OF THE RISER TO PREVENT THE ATLAS FROM DROPPING.
INCORPORATES SHREWD'S ANTI-WALKOUT WASHER SYSTEM TO PREVENT ANY STABILIZER WALKOUT IN THE INTEGRATED QUICK DISCONNECT.
INDEPENDENTLY ADJUSTABLE HORIZONTAL AND VERTICAL AXIS.
COATED WITH A DURABLE ANODIZED FINISH TO SEAL AND PROTECT ALL MACHINED ALUMINUM COMPONENTS.
CONSTRUCTED USING ALL STAINLESS-STEEL HARDWARE WITH A 1/4" HEX KEY SOCKET FOR DURABILITY.
RECONFIGURABLE TO MOUNT ON THE FRONT OR BACK OF THE RISER FOR BOTH LEFT AND RIGHT-HANDED SHOOTERS.
WORKS IN CONJUNCTION WITH SHREWD'S QUICK DISCONNECT (SOLD SEPARATELY) FOR ADDING A FRONT STABILIZER IF MOUNTING THE ATLAS TO THE TARGET SIDE OF THE RISER.
WEIGHT: 3.8 oz

INCLUDES:

ATLAS SINGLE V-BAR
FLUSH MOUNTING BARREL NUT
CUSTOM 5/16"-24 X 0.8" BOLT
5/16"-24 X 1" SHCS
5/16"-24 X 0.5" SHCS
STAINLESS STEEL BUSHING
SELF-RETAINING WASHER
INSTRUCTIONS
FEATURES:

HYBRID CLAMP-TAPER SYSTEM PRODUCES AN ULTRA-STRONG V-BAR
INTEGRATED QUICK DISCONNECT (1" DIAMETER) MAKES INSTALLING AND REMOVING A REAR STABILIZER EFFORTLESS.
FEATURES PRECISION, LASER ENGRAVED INDICATOR LINES FOR REPEATABILITY AND PEACE OF MIND.
CNC MACHINED ALUMINUM
INCORPORATES SHREWD'S ANTI-WALKOUT WASHER SYSTEM TO PREVENT ANY STABILIZER WALKOUT IN THE INTEGRATED QUICK DISCONNECT.
INDEPENDENTLY ADJUSTABLE HORIZONTAL AND VERTICAL AXIS.
COATED WITH A DURABLE ANODIZED FINISH TO SEAL AND PROTECT ALL MACHINED ALUMINUM COMPONENTS.
CONSTRUCTED USING ALL STAINLESS-STEEL HARDWARE WITH A 1/4" HEX KEY SOCKET FOR DURABILITY.
RECONFIGURABLE TO MOUNT ON THE FRONT OR BACK OF THE RISER.
WORKS IN CONJUNCTION WITH SHREWD'S QUICK DISCONNECT (SOLD SEPARATELY) FOR ADDING A FRONT STABILIZER IF MOUNTING THE ATLAS TO THE TARGET SIDE OF THE RISER.
WEIGHT: 7.5 oz

INCLUDES:

ATLAS DOUBLE V-BAR
FLUSH MOUNTING BARREL NUTS
5/16"-24 X 1" SHCS
5/16"-24 X 0.5" SHCS
BLACK, BRAIDED WRIST SLING
10-32 X 0.187" SET SCREWS
SELF-RETAINING WASHERS
INSTRUCTIONS
COMPATIBILITY:

COMPATIBLE WITH HOYT BOWS FEATURING THE SL™ IN-LINE™ MOUNT ON THE SIDE OF THE RISER. 
CARBON RX-7
CARBON RX-5
ECLIPSE
HIGHLINE
TWIN TURBO
VENTUM PRO 30/33
THIS PRODUCT IS NOT INTENDED FOR USE ON THE PRIME INLINE BOWS.

FEATURES:

FEATURES A MACHINED TAPERED TOP BAR THAT LOCATES IN THE IN-LINE™ MOUNTING LOCATION ON THE SIDE OF THE RISER.
HYBRID CLAMP-TAPER SYSTEM PRODUCES AN ULTRA-STRONG V-BAR
INTEGRATED QUICK DISCONNECT (1" DIAMETER) MAKES INSTALLING AND REMOVING A REAR STABILIZER EFFORTLESS.
FEATURES PRECISION, LASER ENGRAVED INDICATOR LINES FOR REPEATABILITY AND PEACE OF MIND.
CNC MACHINED ALUMINUM
INCORPORATES SHREWD'S ANTI-WALKOUT WASHER SYSTEM TO PREVENT ANY STABILIZER WALKOUT IN THE INTEGRATED QUICK DISCONNECT.
INDEPENDENTLY ADJUSTABLE HORIZONTAL AND VERTICAL AXIS.
COATED WITH A DURABLE ANODIZED FINISH TO SEAL AND PROTECT ALL MACHINED ALUMINUM COMPONENTS.
CONSTRUCTED USING ALL STAINLESS-STEEL HARDWARE WITH A 1/4" HEX KEY SOCKET FOR DURABILITY.
RECONFIGURABLE FOR BOTH LEFT AND RIGHT-HANDED SHOOTERS.
WEIGHT: 3.7 oz

INCLUDES:

ATLAS SINGLE V-BAR
FLUSH MOUNTING BARREL NUT
1/4"-28 X 1" SHCS
5/16"-24 X 0.5" SHCS
SELF-RETAINING WASHER
COMPATIBILITY:

COMPATIBLE WITH MOST PRIME BOWS FEATURING THE TRIANGULAR SHERPA MOUNT ON THE SIDE OF THE RISER. 
THE PRIME SHERPA ATLAS IS NOT COMPATIBLE WITH THE PRIME REVEX.

FEATURES:

FEATURES A MACHINED TRIANGULAR TOP BAR THAT LOCATES WITHIN THE PRIME SHERPA MOUNT.
HYBRID CLAMP-TAPER SYSTEM PRODUCES AN ULTRA-STRONG V-BAR
INTEGRATED QUICK DISCONNECT (1" DIAMETER) MAKES INSTALLING AND REMOVING A REAR STABILIZER EFFORTLESS.
FEATURES PRECISION, LASER ENGRAVED INDICATOR LINES FOR REPEATABILITY AND PEACE OF MIND.
CNC MACHINED ALUMINUM
INCORPORATES SHREWD'S ANTI-WALKOUT WASHER SYSTEM TO PREVENT ANY STABILIZER WALKOUT IN THE INTEGRATED QUICK DISCONNECT.
INDEPENDENTLY ADJUSTABLE HORIZONTAL AND VERTICAL AXIS.
COATED WITH A DURABLE ANODIZED FINISH TO SEAL AND PROTECT ALL MACHINED ALUMINUM COMPONENTS.
CONSTRUCTED USING ALL STAINLESS-STEEL HARDWARE WITH A 1/4" HEX KEY SOCKET FOR DURABILITY.
RECONFIGURABLE FOR BOTH LEFT AND RIGHT-HANDED SHOOTERS.
WEIGHT: 3.7 oz

INCLUDES:

ATLAS SINGLE V-BAR
FLUSH MOUNTING BARREL NUT
CUSTOM 5/16"-24 X 0.8" BOLT
5/16"-24 X 1" SHCS
5/16"-24 X 0.5" SHCS
SHERPA STAINLESS STEEL BUSHING
SELF-RETAINING WASHER
INSTRUCTIONS
3.8 OUNCES
TOTAL WEIGHT OF SINGLE ATLAS
The Atlas is designed to be lightweight, compact, and capable. The hybrid clamp-taper locking system maximizes strength while shedding unnecessary weight and bulk.
1.6 in²
Vertical Axis Clamping Area
More surface area on the vertical axis clamp equates to a stronger and more robust system capable of holding more bar weight. The Atlas is built to work.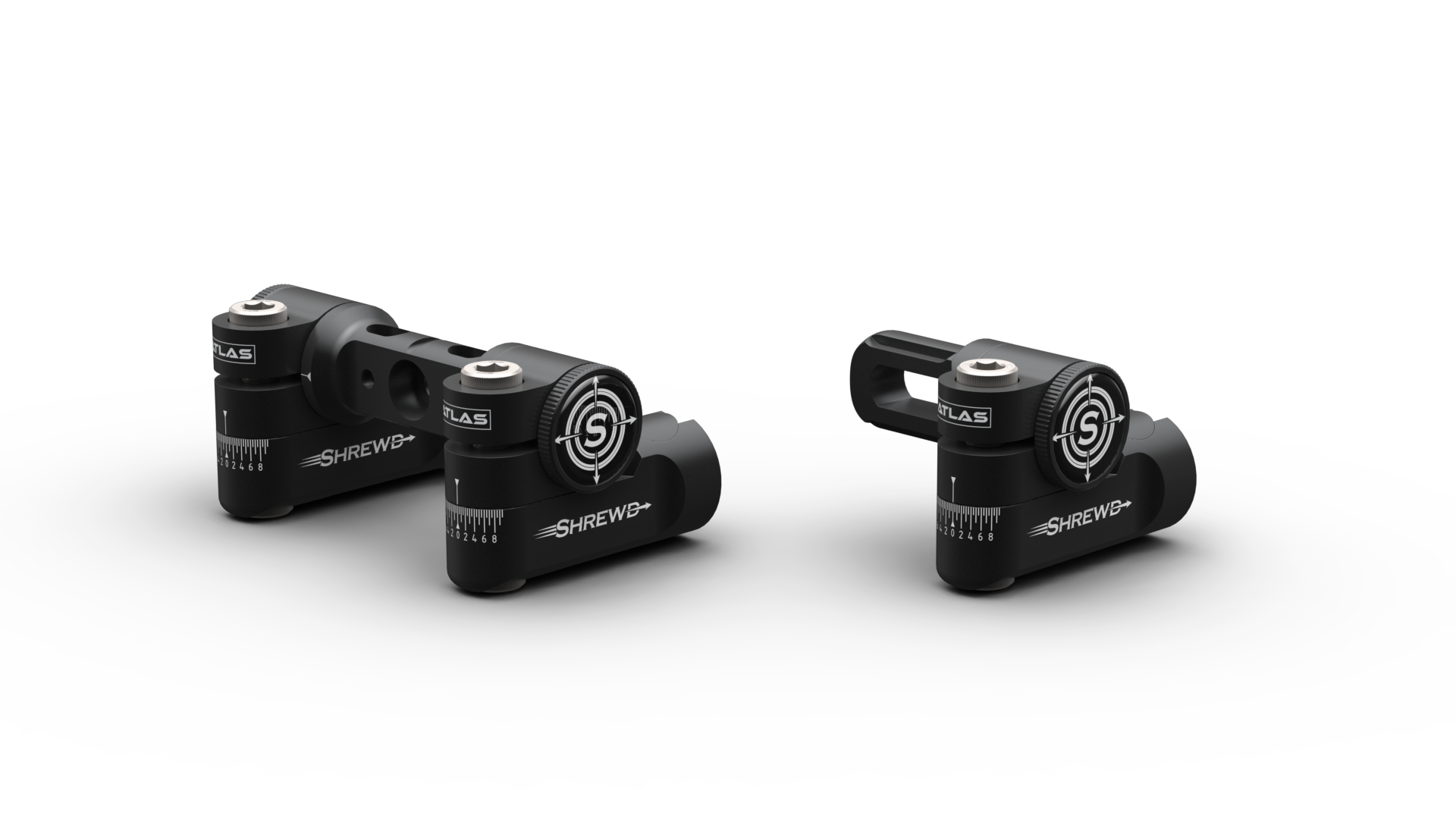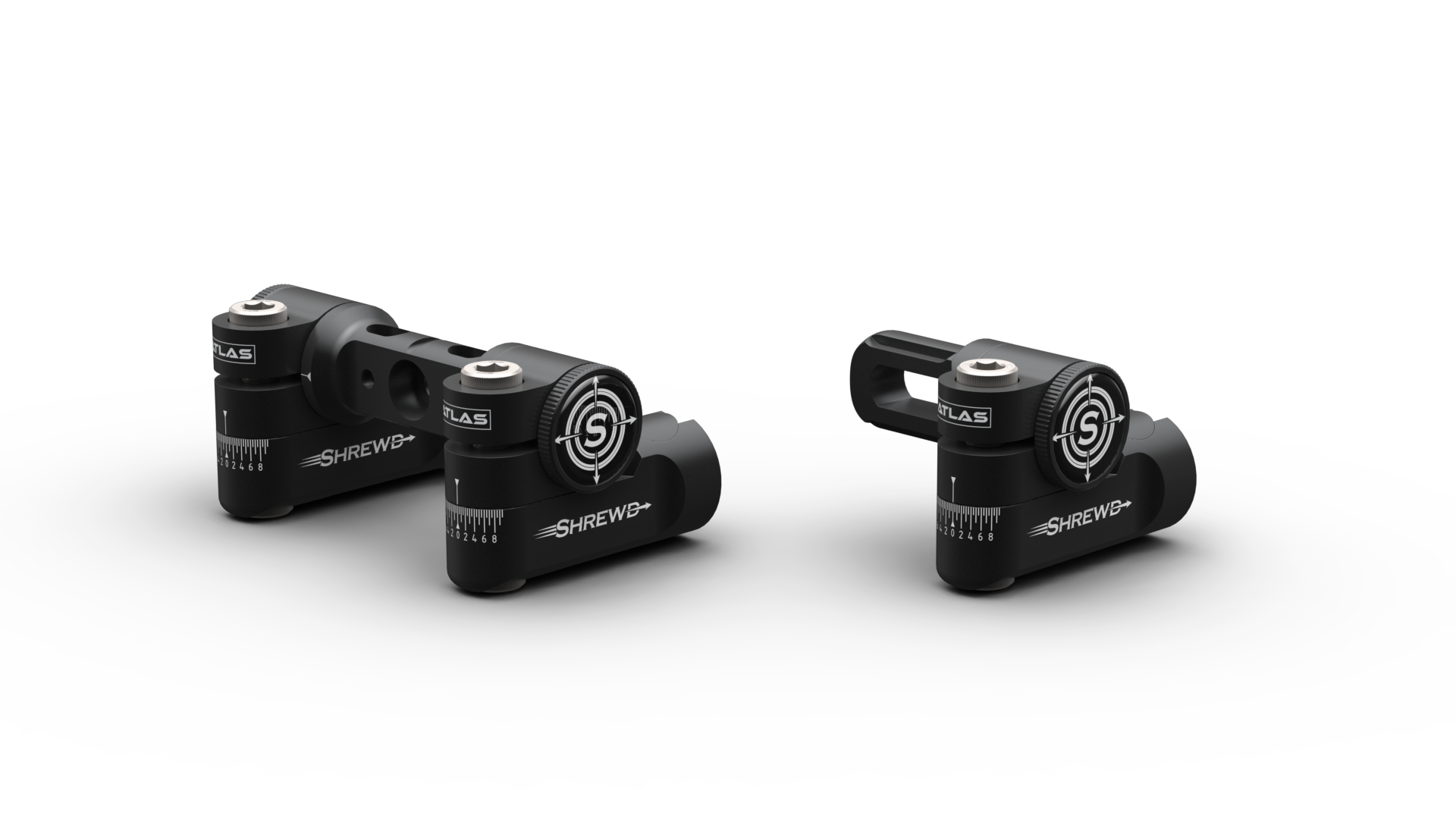 Integrated Wrist Sling
Every double Atlas comes with a braided wrist sling and integrated sling ports for easy installation.
Precision Laser Lines
Each axis is marked with a high precision laser engraver to ensure consistency and repeatability.
Quick Disconnect
Built into each Atlas is a quick disconnect for rapid removal and installation of rear stabilizers.
Built Better
CNC machined from 6061 aluminum, anodized finish, and assembled using stainless steel hardware, the Atlas is built to last.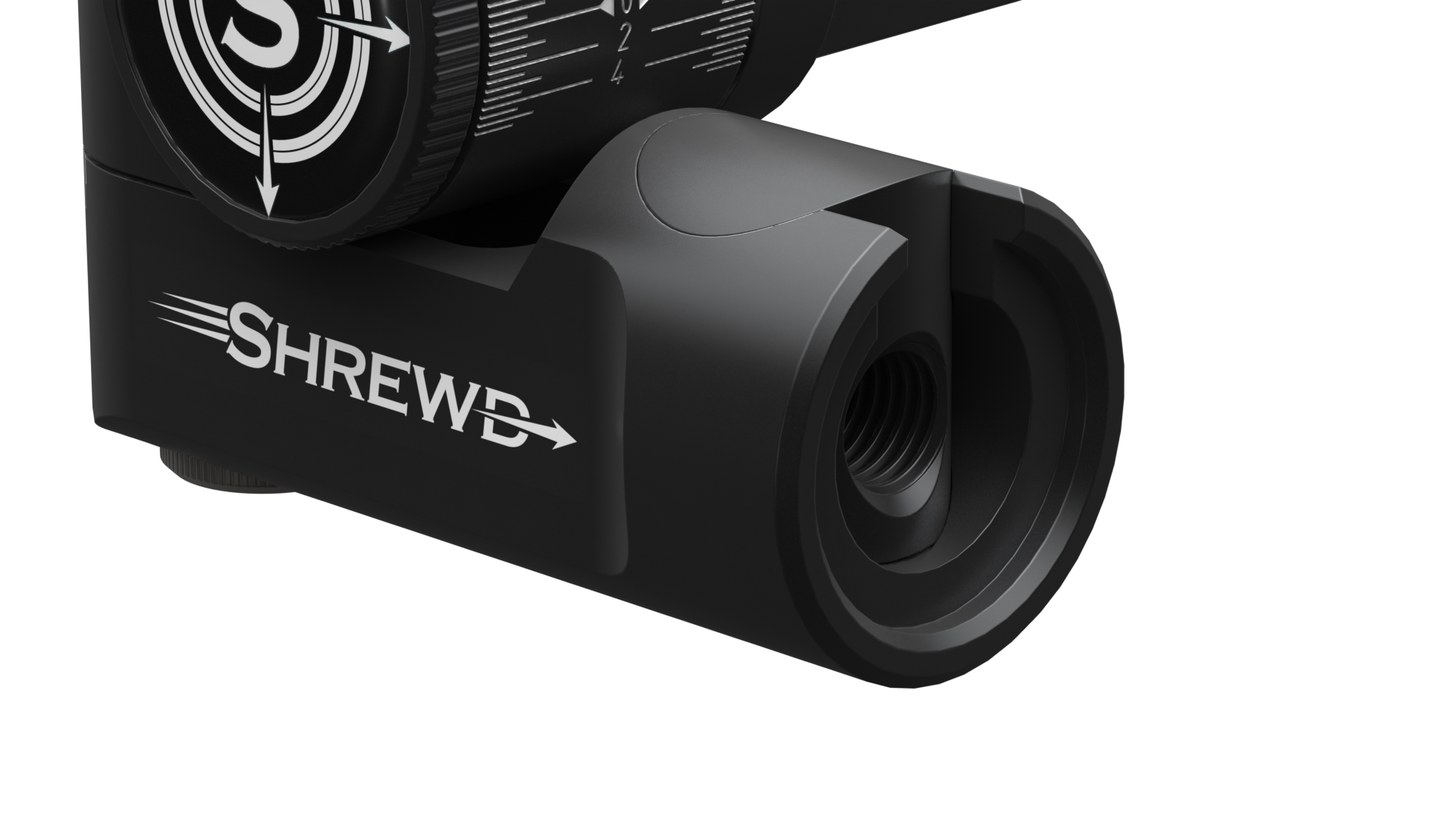 Locked In
An integrated quick disconnect enables easy installation and removal of rear stabilizers while the anti-walkout washer ensures your bar doesn't walk up and out as you shoot.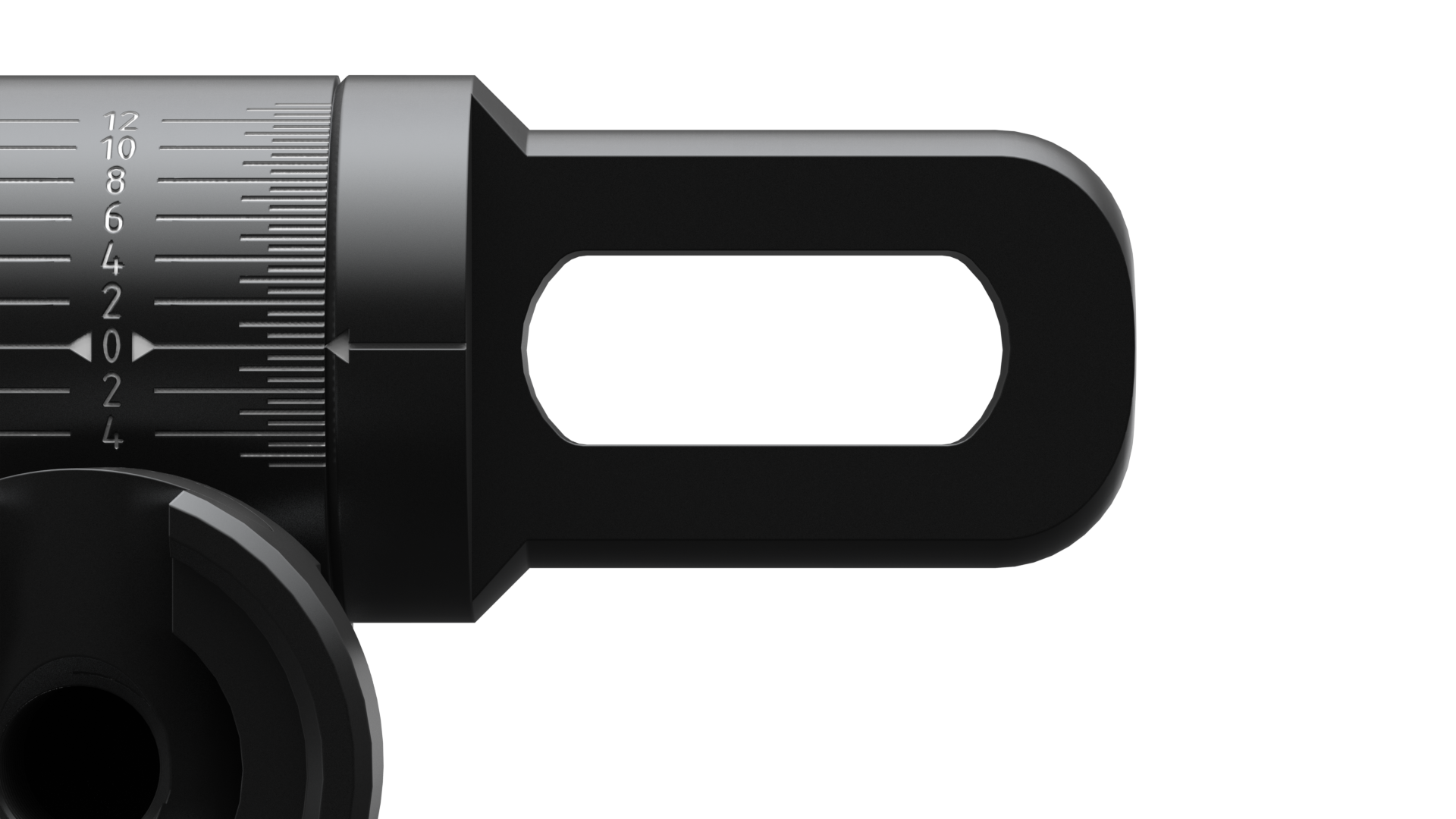 Universally Strong
A wide slot enables the Atlas to fit a multitude of bows and allows the Atlas to be pushed tight against the riser to make full use of the drop-stopper shelf to prevent tilting.
Efficient Design. optimized performance.
The Atlas series is designed to maximize strength and holding potential in the smallest form factor. A hybrid clamp-taper locking system blends together seamlessly and works in harmony.
The integrated quick disconnect enables easy installation and removal of rear stabilizers and pairs with the anti-walkout washer to prevent unwanted stabilizer movement up and out of the disconnect.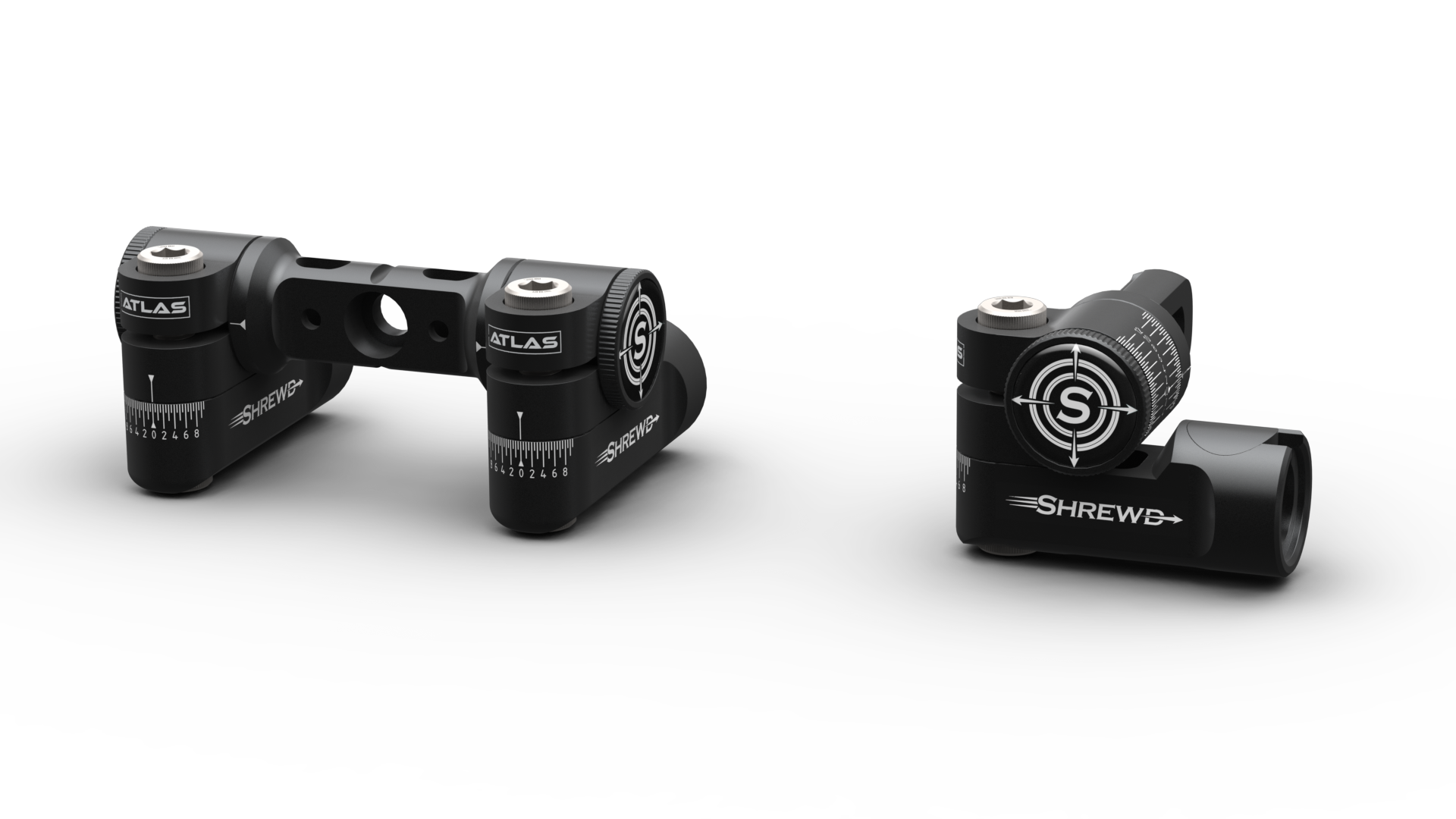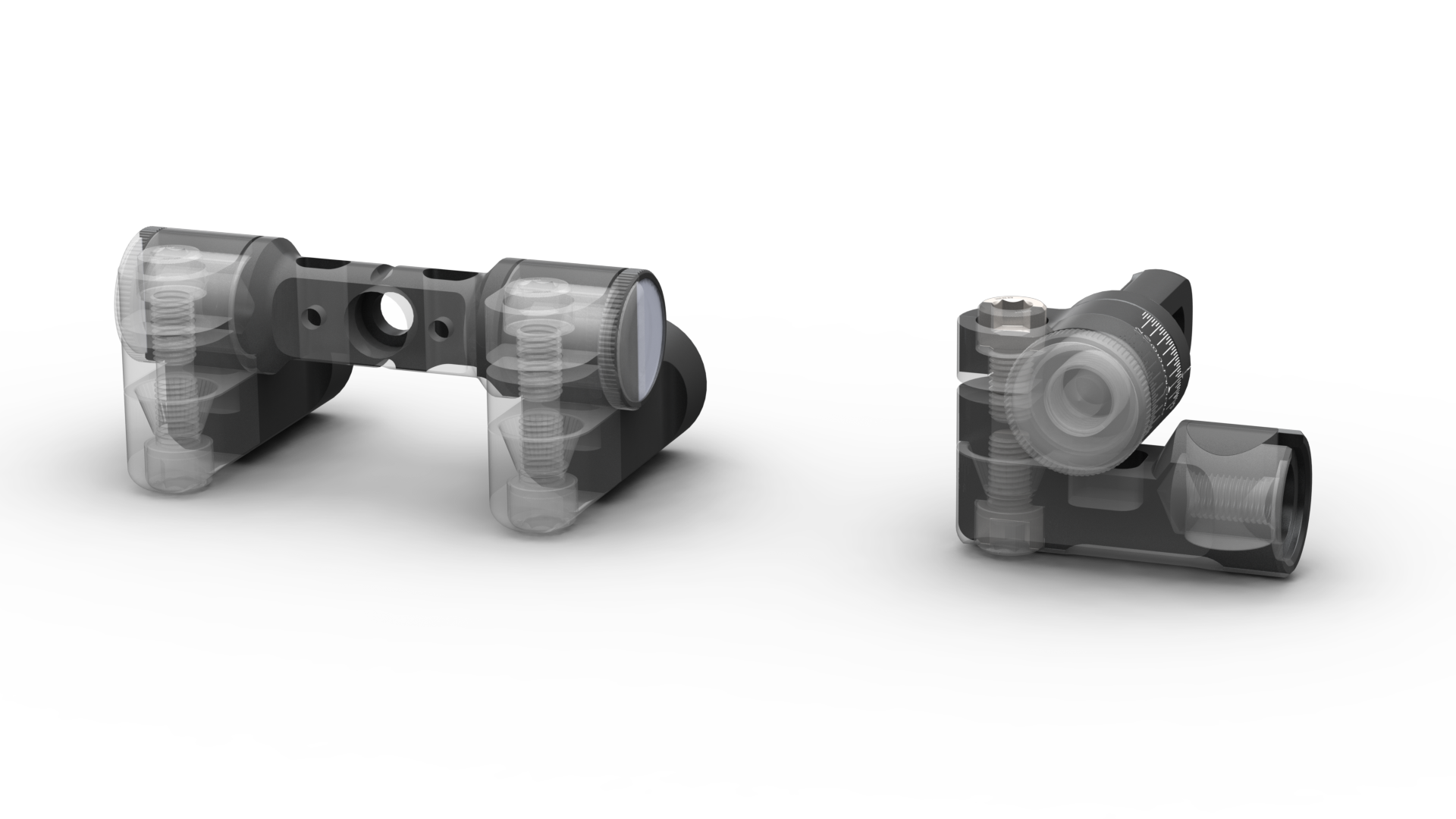 Who is the Atlas intended for?

From a rookie to Reo Wilde, the Atlas is designed for any shooter.
Is the Atlas for compound or recurve shooters?

The Atlas is designed for both disciplines and performs well in all settings. The double Atlas has held its own at the Olympics and the single Atlas has made many shoot downs and podiums on the indoor and 3D circuit.
What makes the Atlas different from other v-bars?

A hybrid clamp-taper locking system maximizes holding power where it's needed and eliminates unnecessary material where it isn't. The Atlas is a compact and lightweight component that you can set and forget.
All Atlas v-bars come with the necessary mounting hardware and instructions. See the product details section above for more information.
What bows are the Atlas mounts compatible with?

The single Atlas is designed to work with almost every bow on the market that features a 5/16"-24 threaded mounting hole. For more information see the product details section above and check the compatibility of the specific Atlas variant you are interested in.
Be Like Reo Wilde